Multi-Sport Game Courts
Bring families together with activities that the entire family can enjoy! From shuffleboard to basketball, VersaCourt gives your family something for all ages.
Our team can work with you to design the best court for your family and can outfit it with permanent fixtures like Ball Hog basketball goals, rebounders, containment fencing and adjustable nets for volleyball, tennis and other racket sports. Add some portable goals and you can turn your new VersaCourt into a roller hockey rink or futsal court.
---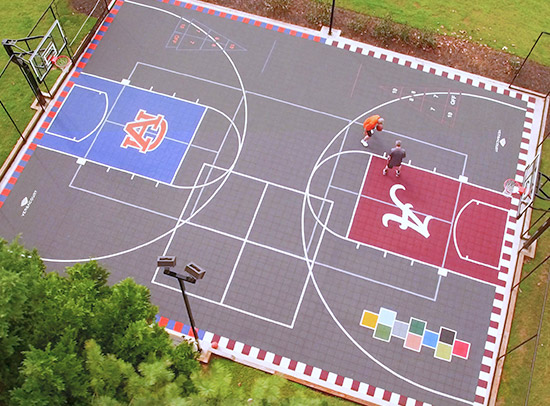 ---
Sport and Game Line Options
VersaCourt can paint lines for just about any sport or game one can imagine and can even adjust the sizes of courts to the space available. Our customers will often start off with the desire to build a backyard basketball court and end up with a court for volleyball and paddle tennis as well as games like shuffleboard, 4-square and hopscotch.
4-Square
Badminton
Hopscotch
Basketball
Tennis
Pickle Ball
Shuffleboard
Volleyball
Futsal
Batter's Box
Goal Crease
Custom Logos